About Us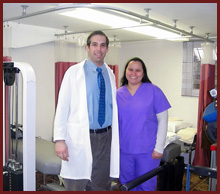 Dr. Adler specializes in physical therapy and sports medicine and offers a complete range of multidisciplinary services for patients of all ages and fitness levels. Dr. Adler treats a wide variety of patients that range from infants to the elderly and pregnant women to athletes.
In addition to his knowledge in the training and practice of physical therapy, Dr. Adler's social skills, sense of responsibility and desire to provide quality services distinguishes him from the other doctors in his field.
Additional Information:
Payment Methods: Cash, Visa/Mastercard, AMEX
MOST MAJOR INSURANCE ACCEPTED INCLUDING WORKERS COMPENSATION/NO FAULT, MEDICARE, MEDICAID, ALL MILITARY PLANS ACTIVE & VA ACCEPTED.
For patients who are self-pay, the fee for initial consult is $275. All subsequent visits are $175.